UC Berkeley: One of America's Best Universities & One of America's Worst in Student Housing
On August 30th, Forbes released its 14th annual list of America's Top Colleges. UC Berkeley landed in the #2 spot, tied with Stanford and just behind MIT. Currently and historically, UC Berkeley and its students have plenty of reasons to be proud. But there's one area in which the flagship UC lags behind its contemporaries: college-owned housing. This is an issue that's hard to ignore when considering what a college has to offer prospective students.
All fully-registered MIT undergraduates are guaranteed four years of consecutive on-campus housing. All Stanford students who enroll as freshman are guaranteed four complete or partial years of housing, while transfer students are guaranteed three.
The trend doesn't change for schools further down the Forbes list — UC Berkeley is in a league of its own when it comes to shortcomings in college-owned housing.
"But wait," you object, "it's unfair to compare UC Berkeley with richer private schools such as MIT and Stanford when it comes to housing." A fair point. As of 2021, MIT's endowment was listed at $27.4 billion, and Stanford's at $37.8 billion; UC Berkeley, meanwhile, sits at a (relatively, and only relatively) measly $6.8 billion.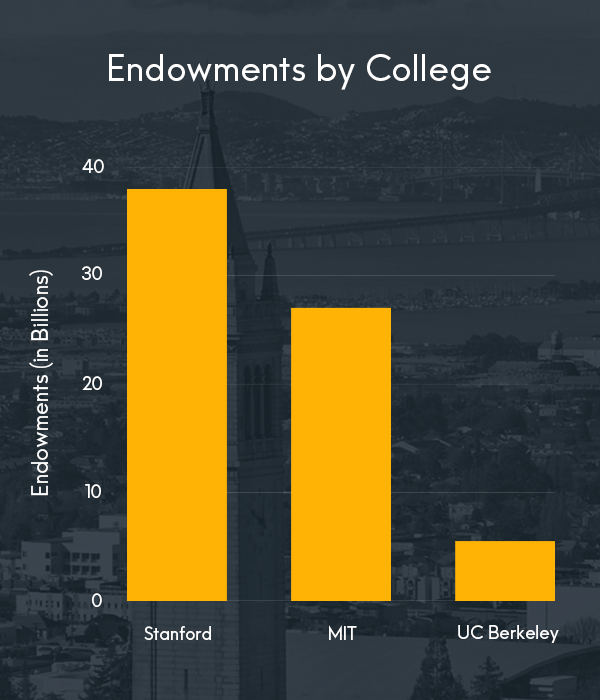 So perhaps it's not fair to compare UC Berkeley with MIT or Stanford, at least not in that domain. Let's instead do what UC Berkeley students and alumni love to do, and compare our school with UCLA. How does that look? Does UC Berkeley have an advantage over its cross-state rival? Is it too close to call?
Not exactly.
In recent years, UCLA had promised three years of campus-owned housing to incoming freshmen, but apparently the institution wasn't content:  This past March, UCLA announced that it would guarantee up to four years of housing in university-owned residences for incoming freshmen and two years for transfer students, effective fall 2022. This was a major selling point as UCLA released acceptance letters to the class of 2026 around the same time.
So was UCLA's housing promise devastating for UC Berkeley? Was there a plunge in the NorCal school's yield rate as a result of UCLA's announcement? Surely, there would be a great number of prospective college students applying to both institutions.
Again, we find ourselves at "not exactly."
Here's a graph of UC Berkeley's annual yield rates since 2015: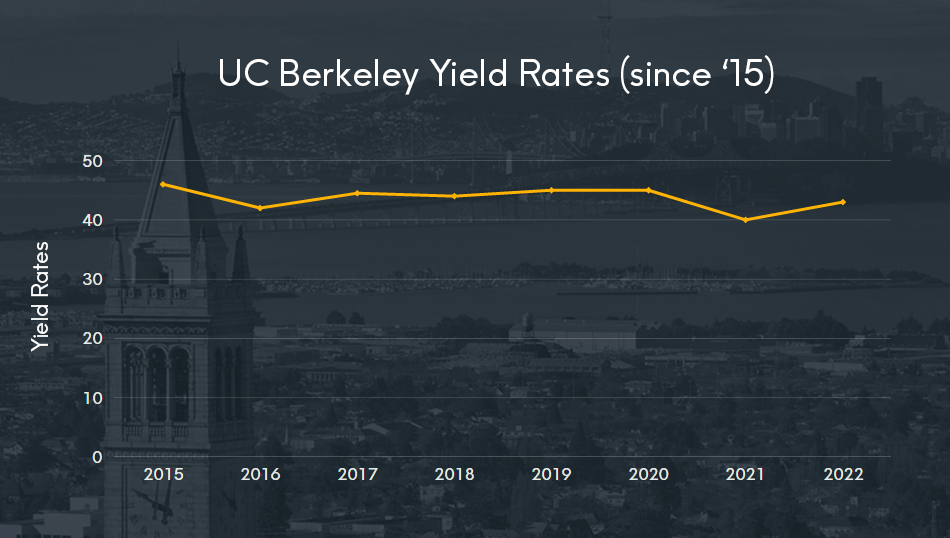 As you can see, the numbers have held fairly steady over the past several years. Since 2015, UC Berkeley's average yield rate has been 43.64%. In 2022, it was 43.00%. And, in fact, the school's yield rate was higher in 2022 than it was in 2021. It hardly seems that UCLA's expanded housing foreshadowed catastrophe for its older brother.
It's worth noting that UC Berkeley's yield rate may have risen from 2021 to 2022 as a result of fewer applicants being admitted in the later year. In 2022, 14,600 freshmen were admitted whereas 16,400 were offered admission in 2021. The relatively low yield rate that year is likely at least somewhat attributable to this difference in admissions, without which 2021 would have had a yield rate more similar to that of 2022. With that being said, it is unlikely that this greatly influenced the yield rate, and thus it is unlikely that 2022 would have seen a decline in that metric relative to 2021 even if the number of admitted students had been the same across the two years.
That's not to suggest that housing doesn't influence yield rates; UCLA's yield rate leapt to 44.00% in 2022, almost six full points higher than its average for the past 11 years. In 2021, that figure was 40.93%. So while UC Berkeley seemingly hasn't been suffering ill effects as a result of the superior campus-owned housing options of its competitors, UCLA did experience a boost in its rate this past year. How much of that is attributable to its housing guarantee, one can only speculate — but that certainly didn't seem to hurt matters.
This begs at least two questions:
1) What keeps UC Berkeley afloat?
2) Why is it that students continue to matriculate even as competitors only extend their advantages in college-owned housing?
One factor that cannot be overlooked in answering this riddle is the presence of living spaces owned by third parties. With only 20% of UC Berkeley's student population living on campus, not only viable but desirable alternatives are needed.
Valiance Capital Steps Up to Fill UC Berkeley's Student Housing Needs
Enter Valiance Capital, the fastest-growing supplier of homes for UC Berkeley students. Valiance has a proven formula for developing top-of-the-line co-living facilities, then cultivating welcoming communities within them. In part, this is done by providing countless amenities such as tasteful furniture, kitchen appliances including blenders and air fryers (as well as all of the essentials), furnished rooms, and— maybe best of all, in students' eyes — free access to streaming services like Netflix and HBO Max. These amenities contribute to the wellness of all residents and ensure their comfort from the day they move in. That being said, perhaps the most important facet that distinguishes the homes that Valiance provides from those of its contemporaries is Valiance's in-house management team, The Berkeley Group. At each property, this team is represented by at least one Community Manager, who takes pride not only in addressing resident wants and needs, but in building a sense of camaraderie within the house as well. Each Community Manager lives in their respective house, keeping an ear to the pulse of the community and planning events, engaging with residents, and ensuring that everything runs smoothly.
As rival universities extend their on-campus housing advantages over UC Berkeley, the institution increasingly relies on entities like Valiance to provide high-quality alternatives. Fortunately, Valiance is more than up to the task. All around the UC Berkeley campus, the organization is developing harmonious student communities within state-of-the-art facilities. It's thanks to entities like Valiance that UC Berkeley continues to garner impressive yield rates, as students have dependable housing arrangements at their disposal once they've spent a year in the dorms.
Valiance is fulfilling a vision that starts — but doesn't end — in Berkeley. As its horizons expand, the organization imagines improving on-campus housing alternatives in other corners of the country. One thing's for sure: As long as there are universities that are unable to house all of their residents on campus (and there always will be), student housing entities such as Valiance will be inexpendable.
The burning need that institutions like UC Berkeley have for off-campus options makes investing in student housing both rewarding and financially fruitful.
The time to invest is now.
Author: Ethan Moutes
Valiance Capital is a private real estate development and investment firm specializing in student and multifamily housing.
Access the Highest-Quality Real Estate Investments
INVEST LIKE AN INSTITUTION
Valiance Capital
2425 Channing Way Suite B
PMB #820
Berkeley, CA 94704
investors@valiancecap.com
©2023 Valiance Capital. All Rights Reserved.
Valiance Capital
2425 Channing Way Suite B, PMB #820
Berkeley, CA 94704
investors@valiancecap.com
Access the Highest-Quality
Real Estate Investments
Invest Like an Institution
©2023 Valiance Capital. All Rights Reserved.
Investing involves risk, including loss of principal. Past performance does not guarantee or indicate future results. Any historical returns, expected returns, or probability projections may not reflect actual future performance. While the data we use from third parties is believed to be reliable, we cannot ensure the accuracy or completeness of data provided by investors or other third parties. Neither Valiance Capital nor any of its affiliates provide tax advice and do not represent in any manner that the outcomes described herein will result in any particular tax consequence. Offers to sell, or solicitations of offers to buy, any security can only be made through official offering documents that contain important information about investment objectives, risks, fees and expenses. Prospective investors should consult with a tax or legal adviser before making any investment decision. For our current Regulation A offering(s), no sale may be made to you in this offering if the aggregate purchase price you pay is more than 10% of the greater of your annual income or net worth (excluding your primary residence, as described in Rule 501(a)(5)(i) of Regulation D). Different rules apply to accredited investors and non-natural persons. Before making any representation that your investment does not exceed applicable thresholds, we encourage you to review Rule 251(d)(2)(i)(C) of Regulation A. For general information on investing, we encourage you to refer to www.investor.gov.